These TFT monitors are replacing damaged or old tube and tft monitors.
The old monitors have been integrated into machine controls of all established industrial manufacturers, as for instance:
Here you will find an overview of all TFT replacement monitors.
Easy to replace with a few "Plug & Play" steps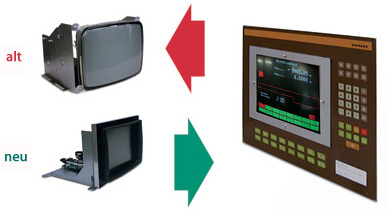 The tft replacement monitors are adapted mechanically and electronically to the original control units and can therefore be easily swapped with a few "Plug & Play" steps.
Old monitor out
Connect cable of new monitor to control unit
Integrate and connect new monitor
Finished
All replacement monitors are Made in Germany using high quality industrial components for 24/7 continious operation.
Low machine breakdown in return for quick delivery
As a general rule the replacement monitors are available at stock and will be delivered – if desired – on the same day the order is received via express shipment. Potential machine shutdown can be reduced to a minimum and production can proceed without unnecessary expenses.
Individual adaption to your control unit
Please do not hesitate to contact us, if your control or machine is not listed. Our development department is eager to realize new replacement solutions at any time.