This 12.1″ replacement monitor replaces 14″ tube monitors in AGIE wire eroding machines AGIE 100C. At this CNC machine were AGIE AGIEMATIC T controls and AGIETRON 200 (Console) integrated.
The TFT monitor was formatted electronically and mechanically to the original AGIE controls and can therefore be swapped out easily with a view "Plug & Play" steps.
The monitor will be connected with a 9 pin D-Sub connector at the monitor and a 25 pin D-Sub connector at the AGIE control. A matching adapter cable is supplied with the monitor.
Specifications:
12.1″ industrial monitor as a replacement to 14″ CRT monitors (color)
compatible to AGIE contols AGIEMATIC T and AGIETRON 200 console
compatible to AGIE CNC machine AGIETRON 100 C
Mechanical version: Chassis with curve adapter and mounting angles
Connection monitor: 9 pin D-SUB (2-rowed)
Connection control: 25 pin D-Sub (2-rowed)
Operating voltage: 230V AC
Display resolution: 800 x 600 Pixel
Brightness: 400 cd/m2
Contrast ratio: 500:1
Backlight approx. 50.000 operating hours
Operating condistions: 0°C ~ 50°C operating temperature
Designed for 24/7 continuous operation
Long-term-availability
Article ID 2362391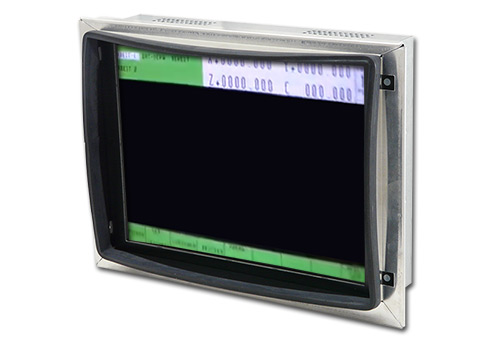 12.1″ LED monitor for AGIETRON 100 C
More images:
[contact-form-7 404 "Not Found"]
Contact to Sales Departement
Tel: +49 8104 62963-17