This 10.4″ industrial monitor replaces 12″ CRT monitors at Okuma LB15 control (operator panel OSP 5020)
The replacement monitor was formatted electronically and mechanically to the original Okuma control and can therefore be swapped out easily with a few "Plug & Play" steps.
The monitor is supplied with a double front plate.
The monitor will be connected with a 20 pin multi-pin connector or a 10 pin monitor connector (ADA-CRT10). Both connectors are supplied with the monitor.
Specifications:
10.4″ TFT industrial monitor as a replacement to 12″ tube monitor (color and monochrome)
Compatible to Okuma LB15 control with operator panel OSP 5020
mechanical version: incl. double front panel with non-reflecting glas
Connection monitor: 9 pin D-SUB or 15 pin HD D-SUB (2-rowed)
Operating voltage: 230V AC intern
Dimensions front panel: 290 x 210 mm (w x h)
Display resolution: 800 x 600 Pixel
Brightness: 250 cd/m2
Contrast ratio: 400:1
Backlight: approx. 30.000 operating hours
Operating condistions: 0°C ~ 50°C operating temperature
Delivery incl. adapter wire 9 pin D-Sub to 20 pin / 2-rowed
Delivery incl. adapter platine: 15 pin HD D-Sub to 10 pin
Designed for 24/7 continous operation
Long-term-availability
Article ID 2361922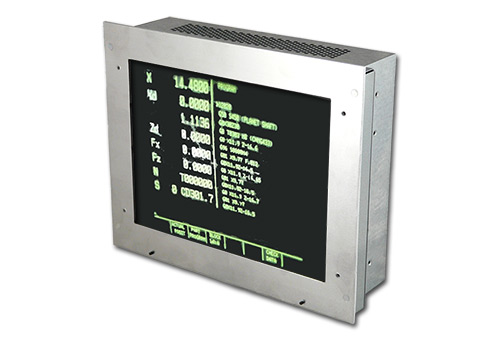 10,4″ TFT monitor for Okuma OSP 5020 (type Okuma LB15)
More images:
[contact-form-7 404 "Not Found"]
Contact to Sales Departement
Tel: +49 8104 62963-17