This 10.4″ industrial monitor replaces 12″ CRT monitors at punching machines and nibbler Trumpf Trumatic 120, 235, 240, 240 Rotation and Trumatic 500 (TC500R). These Trumpf machines have a Bosch Trumagraph CC200 or CC220 control inside.
The TFT monitor was formatted electronically and mechanically to the original Bosch control and can therefore be swapped out easily with a few "Plug & Play" steps.
The monitor will be connected with a 15 pin HD D-Sub connector. These adapter wire is supplied with the monitor.
Specifications:
10.4″ TFT industrial monitor as a replace to 12″ tube monitor in Trumpf Trumatic machines 120, 235, 240, 240 Rotation and 500 Rotation (TC 500R)
compatible to Bosch CC200 and CC220 control
Mechanic version: Chassis version with curve adapter
connection monitor: 15 pin HD D-Sub
Adapter wire: 15 pin HD D-Sub to 16 pin / 2r-rowed
Operating voltage: 12V DC (via adapter wire)
Display resolution: 800 x 600 Pixel
Brightness: 250 cd/m2
Contrast ratio: 400:1
Backlight: approx. 30.000 operating hours
Delivery incl. adapter wire
Operating condistions: 0°C ~ 50°C operating temperature
designed for 24/7 continous operation
Long-term-availability
Article ID 2363422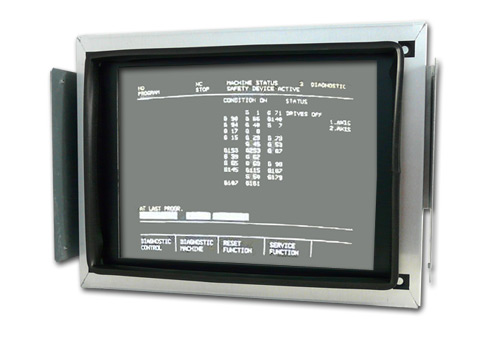 10,4″ TFT replacement monitor for Trumpf Trumatic
More images:
[contact-form-7 404 "Not Found"]
Contact to Sales Departement
Tel: +49 8104 62963-17