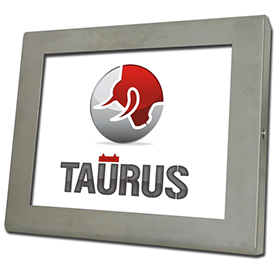 This 15" industrial monitor from the "Taurus" series was especially conceptualized for production environments with extreme demands, as for example in the food, chemical, pharmaceutical industry, as well as the automation or outdoor industries.
The touch monitor is a completely enclosed desktop housing, made from integrated V2A or V4A stainless steel and meets the protection standard of IP67 (alternately IP65). Not dust, water, alkali/acids nor blood can affect this industrial monitor. This makes a thorough cleaning possible.
There are three base models available:
IP67 TrueFlat with completely flat surface and waterproof screw in connectors
IP67 Line with waterproof screw in connectors
IP65 Line with connectors protected from water sprays
The 15″ monitor has a standard option of a 15 pin HD-SUB VGA connector. Optionally there are more connectors (DVI, BNC) available.
The TFT display has a standard option of an optical non reflective protective screen. This can, depending on the customer's wishes, be switched out for a touchscreen display. There are a variety of touchscreen technologies that are available (resistive Touch, GFG Touch, Projected Capacitive Multitouch).
As an optional feature, this 15" monitor can be retrofitted for usage in an expanded temperature range. This way it can be utilized in surroundings with a temperature from -20° C up to +70° C. With the display that can be used in direct sunlight, as well as the Optical Bonding, it is very suitable for use outdoors.
Of course, all components are specially equipped for a 24/7 continuous industrial use. Depending on the customer's wishes, the 15" industrial monitor can easily be configured.
Specifications
Industrial desktop monitor with 15″ TFT display (=381 mm)
Completely enclosed housing made of V2A stainless steel (V4A optional)
Protection level: IP67 (waterproof and dust proof)
Lexan screen with scratch resistant coating
Resolution: 1024 x 768 pixel
Brightness: 350 cd/m2
VGA connector 15pol. HD-SUB (waterproof screw in)
Operating voltage: 12V DC
Attachment as per VESA Standard 75
Dimensions: 403.1 x 327.1 x 63.2 mm (w x h x d)
Weight: approx. 6kg
Operating temperature: 0°C up to +50°C (optionally -20°C up to +70°C)
Designed for 24/7 continuous operation
Long term availability
Customer specific retrofitting
Article ID: will be issued according to customization
Options
Housing made of V4A stainless steel
Touch Display with varied Touch technologies: resistive, Glass-Film-Glass or Projective capacitive Touch / Multitouch
(Installation via serial port RS 232 or USB connection)
High brigthness display or displays that work in sunlight up to 1500 cd/m2, the characteristics are improved with Optical Bonding
I/O port: DVI IP67, Video (BNC female)
Kit for expanded temperature range up -20° to +70° C
Operating voltage: either 24V DC or 110V – 230V AC (with broad range power supply)
Varied accessories: can be configured with IP67 connectors, base / mount, Touch Pen, keyboard, printer. scanner, scale, weight display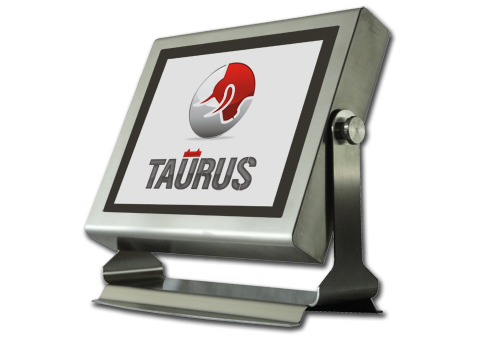 15″ industrial touch monitor with TRUE FLAT front panel
More images (click to enlarge):
[contact-form-7 404 "Not Found"]
Contact to Sales Departement
Tel: +49 8104 62963-17