8,4″ TFT monitor as a replacement for monochrome 9″ CRT monitors for Fanuc control 0T. It is supplied as installation monitor with seal.
This replacement monitor was formatted electronically and mechanically to the original Fanuc cnc control and can therefore be swapped out easily with a few "Plug & Play" steps.
TFT monitor will be connected via 20pin/3-rows Honda-connector. You can use your existing cable directly from your old CRT monitor.
Specifications:
8,4″ replacement-monitor for 9″ CRT monitors (monochrome) with following monitor codes:

A61L-0001-0071
A61L-0001-0072
A61L-0001-0076
A61L-0001-0079
A61L-0001-0086
A61L-0001-0092
A61L-0001-0093
MDT947B1A

100% compatible for cnc control Fanuc 0T
Mechanical version: chassis including seal
Connection: Honda connector 20pin. / 3-rows
Input voltage: 24V DC
LED Backlight
Display resolution: 800 x 600 Pixel
Brightness: 250 cd/m2
Contrast ratio: 600:1
Backlight approx. 20.000 operating hours
Operating conditions: 0°C ~ 50°C operating temperature
designed for 24/7 continuous operation
Long-term availability
Article ID 2362819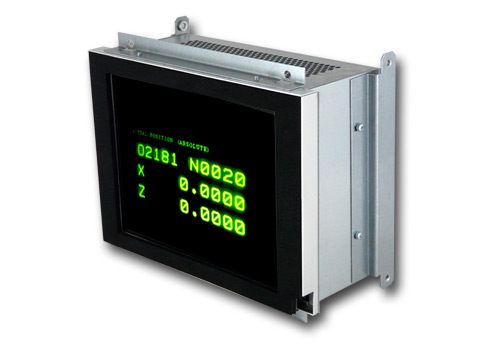 TFT LED monitor for monochrome 9″ CRT monitors at Fanuc series 0T
More images (click to enlarge):
[contact-form-7 404 "Not Found"]
Contact to Sales Departement
Tel: +49 8104 62963-17