This 12,1″ industrial-monitor replaces color 14″ CRT monitors at CNC turning machines Mazak SQT- 200 and milling machines Mazak VTC-20C. In these machining centers is Mazak Mazatrol control CAM M2, M PLUS, M32, M32B, M32T, M32+, M-32, T-2, T PLUS, T32, T-32 and Mitsubishi Meldas 500 integrated.
The monitor was formatted electonically and mechanically to the original Mazak control and can therefore be swapped out easily with a few "Plug & Play" steps.
There are 3 kinds of connections at this TFT monitor: 9 pin D-SUB connector, 15 pin HD D-SUB connector or a 10 pin monitor-connector. The monitor is supplied with 3 adapter wires and 2 mounting angles.
Specifications:
12,1″ TFT monitor as a replacement to 14″ CRT monitors (color) with following monitor-Codes:

Mitsubish C-3470
Mitsubishi C-5470
DR-5614
CD-1472-D1M
CD-1472D1M2
MDT1283B
CRT12B-TX32B / E
CDT-14148B
CDT-14148B-1A
KME 26S14019R
26S-14019L
26S-14019C
Hitachi AIQA8DSP40
8DSP-40
AQ1A-8DSP40

compatible to Mazak Mazatrol control CAM M2, M-2, M PLUS, M32, M32B, M32T, M32+, M-32, T-2, T PLUS, T32, T-32, Mitsubishi Meldas 500
compatible to CNC machining centers Mazak SQT-200 und VTC-20C
Mechanics: chassis-version with curve adaper and mounting angles
non-reflecting glas
Connection control: 15 pin MOLEX connector, monitor connector 10 pin
Kinds of connection monitor: 15 pin HD D-SUB, 9 pin D-SUB or 10 pin monitor connector (ADA-CRT)
Delivery with 2 adapter cables and 1 monitor connector
Operating voltage: 110 – 230V AC
Display resolution: 800 x 600 Pixel
Brightness: 400 cd/m2
Contrast ratio: 500:1
Backlight: approx. 50.000 operating hours
Operating condistions: 0°C ~ 50°C operating temperature
Designed for 24/7 continous operation
Long-term-availability
Article ID 2361161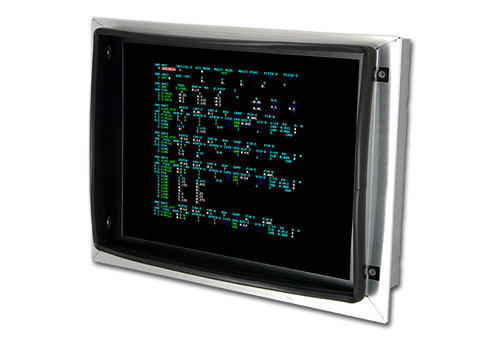 12.1″ industrial monitor for Mazak Mazatrol control units
More images:
[contact-form-7 404 "Not Found"]
Contact to Sales Departement
Tel: +49 8104 62963-17