Heat resistant Panel PCs are always again and again a challenge for us. Here it is less about the material that we use for the PC, but the functionality. What we specifically mean by that, we would like to explain with an example of one of our customers, who ordered a Panel PC for a rolling mill.
How does a Rolling Mill work?
First, however, a few brief explanations about what sort of conditions we found with our customer. As we previously mentioned, our customer runs a rolling mill where high quality rolled wire is manufactured. In the manufacturing, the raw material (iron ore) is processed into a pig iron at 95 degrees. Subsequently the pig iron is then alloyed with other ingredients and the entire mass is melted in an electric arc furnace.
After the melted mass is further processed in a ladle furnace, it is put into a bar casting facility. As the name already reveals, this facility produces bars. In the end, these bars are processed in the rolling mill into rolled wire. For this, the bars are heated and are rolled into each other.
The Proble,: A Panel PC that works perfectly in Temperatures exceeding 70 degrees Celsius
The Panel PC that we delivered was to be used in production. This was an environment with high temps. For this reason, we decided on a IP65 stainless steel housing, which can be used in temperatures exceeding 70 degrees. For the touchscreen we used a display with a brightness of 350cd.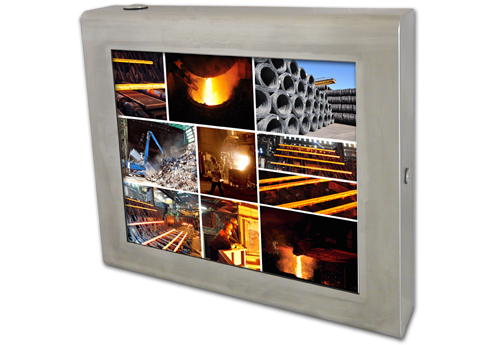 These requirements do not pose anything unusual to us. We did know from experience, however, that it was likely that things would resort to some test runs with this customer. The reason for that are the special circumstances, such as the heat. We therefore outfitted the system with components that could also withstand heat and in the course of several test stages, we discovered which components were the most suitable.
The Solution: A Panel PC with a suitable Processor
As a first step, we delivered a Panel PC with a Intel Atom N270 processor to our customer. Due to the fact that the performance was not sufficient, we swapped out the processor for a Intel Atom D525 with 4 gigabytes of RAM. This processor, however, was not suitable for the surroundings, because it kept overheating. For this reason, we decided on a Intel Atom N2600 processor with only 2 gigabytes of RAM. After four weeks of usage, we now know that we were correct with this configuration. The Panel PC works in a hot surrounding without failures.
Related product:
Stainless steel Panel PCs "Taurus" line