In the summertime, an all time classic amongst sausages is the Thüringer roasting Bratwurst. Grilled and with a side of mustard, they are the most delicious. Although one thing is to be considered during the industrial manufacture of Thüringer sausages, as we recently learned.
What sparked our sudden increased interest in Thüringer sausages, was the inquiry from a butcher that specialized itself on the mass production of sausages. With the help of large machines, this company manufactures thousands of sausages on a daily basis and then deliveres them to the marketplace. For the Panel PCs, with which the machines could be controlled, we received special requirements. One of these special requirements was the GFG Touch, that is acid resistant.
Acid Burns on the Display caused by Blood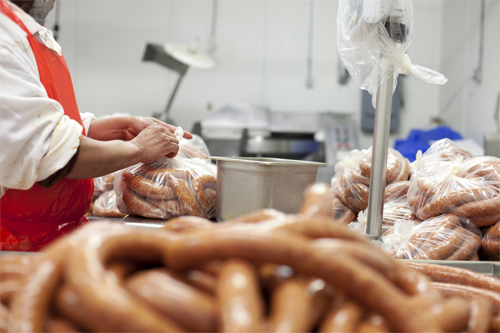 When we received this monitor specification from the manufacturer, we inquired further. Why should the Panel PC be acid resistant? In this case, we were told that in the manufacture of the Thüringer sausages, there is no lack of blood shed. The raw meat that is processed on a daily basis, contains a tremendous amount of blood. It is very prevalent. If it drips onto the machine's controllers, it acts as an acid and causes an acid burn on the display.
A Panel PC with IP65 Protection, RS232 Connectors and GFG Touchscreen
We recommended a GFG (Glass Film Glass) Touch for the Panel PC from the "Taurus" Series, which is acid resistant. Additionally, we chose a housing for the Panel PC made of brushed stainless steel with IP65 protection. For the cable access, the manufacturer of the Thüringer sausages was satisfied with an IP54 protection. We also outfitted the PC with a LPT interface and two RS232 connectors.
Related products:
17″ Panel PC with TRUE FLAT Front – "Taurus" series