A few months ago, we received a phone call from a company that specializes in the manufacture of carbon fiber. At that time, we learned that during the manufacture of the fibers, very aggressive chemicals were used, such as dimethyl sulphoxide (DMSO). This was a special challenge for our Industrial PC from the Taurus series, because we could under no circumstances use the standard equipment.
V4A Stainless Steel for usage in Surroundings containing Chloride
As a standard feature, the housings of our Panel PCs from the Taurus Series consist of rust proof V2A stainless steel. Due to the fact that during the manufacture of carbon fibers, aggressive chemical reactions had to take place, we had to definitely resort to the V4A steel. This steel can be used in surroundings containing chloride, as for example in salt water pools. With the V4A steel, the Industrial PC received a housing that was resistant against solvents.
Solvent Resistant Insulations for Connectors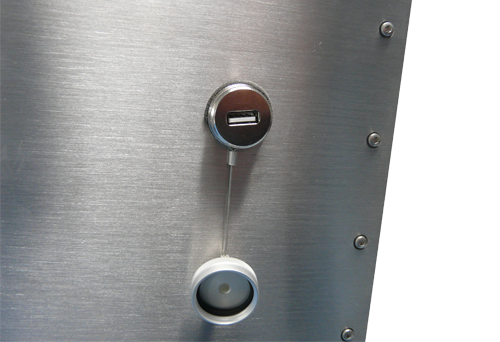 Nonetheless, we could not completely insulate the Panel PC against dimethyl sulphoxide by swapping out the V2A stainless steel for a V4A stainless steel. The reason for that is the large number of ports on the Panel PC, with which the Industrial PC is connected to other components. The ports are therefore outfitted with insulators, that also have to be solvent resistant. We ourselves do not have access to DMSO testing pool. That is why we delivered samples of the insulators in advance to the customer, who then tested the insulators in a DMSO solution.
A GFG Touch that can be operated with Gloves
After we received the news that the insulators had lasted, we put together a sample Panel PC. With this step, it was to be determined, if the Panel PC actually is resistant to dimethyl sulphoxide in the new environment and if the employees could make optimum use of the equipment. We had consider that the Panel PC's touch display would be operated with gloves. The fact that these gloves could still have remnants of the DMSO solution, was something we considered in the selection of the touch display. It was not until this test was concluded, that we started with manufacturing of the Panel PCs.
A dimethyl sulphoxide resistant Panel PC made of V4A Stainless Steel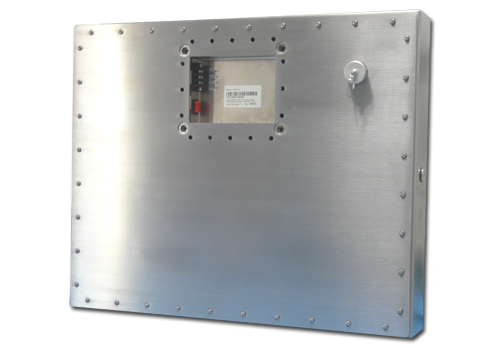 At the end of the series of tests, we delivered an Industrial PC with a GFG Touchscreen (Glass Film Glass), a V4A stainless steel and supply lines and insulators, that are dimethyl sulphoxide resistant. On the back side of the monitor there were the VESA connectors. The Panel PC's access cables were outfitted with a PG-screw on cover. We covered the normally exposed USB port with a screw on metal plate, that was also made of V4A stainless steel.