A few months ago, we received an inquiry from a machine building company. This company wanted to integrate the option into their machines, with which the production process could be followed more closely. The solution was a combination of a camera and a monitor.
This could be easily imaginable with machines that process materials in an enclosed environment. As an example, we would like to introduce an automatic milling machine. Modern milling machines are well protected towards the outside. Cooling liquids and shavings no longer spray and fly wildly about. The advantage of this construction is obvious: the chance of injury for the employees is reduced dramatically.
A Camera as a Digital Eye for the Milling Machine
Nonetheless, this construction carried with it one disadvantage. Due to the protection, usually in the form of a transparent piece of plexiglass, the visual examination was made much more difficult. In order to solve this problem, many manufacturers outfit their machines with cameras which act as a digital eye and follow the manufacturing process.
Next to the camera, a monitor needs to also be installed, so that the camera pictures are visible. This is the type of inquiry the manufacturer of milling machines made with us. The manufacturer sought a solution for an easy way to connect a camera with a IP65 capable Monitor. According to the envisioned plans of the machine manufacturers, the video signal should be changed via a convertor, so that the picture could be viewed via VGA or DVI on a monitor.
Do without a Convertor – A Monitor with a BNC Port for the Camera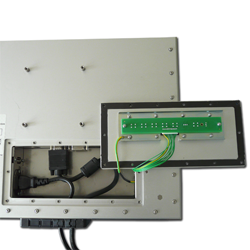 Due to the fact that the solution seemed complicated, we made an appointment to tour the location. In the course of this tour, we found out that the camera's signal delivers a BNC signal. We recommended to do without the convertor and we outfitted our monitors with a BNC port. This way, the signal from the camera could be directly transmitted to the monitor, without having to be converted.
The monitor was equipped with a V2A stainless steel housing, which allowed for an IP65 protection. Additionally, our monitor received a reflection free protective pane made of plastic, that was resistant to lubrication haze and cleaning agents. Due to cost considerations, the monitor received a cable access with an IP54 standard. With the aid of rubber couplers, the cable could be connected to the underside of the monitor. The advantage with this solution, is that a readily available cable could be used, which are often much cheaper than special cables.
Related products:
Industrial monitor with protection up to IP67
Panel PCs – protection up to IP67