Sometimes the simplest solutions are the best. Especially, when it involves an order for monitors. Most of the monitors that we ship, are standard monitors. For most of the customers, however, the configuration of the monitor is the most important consideration. We would like to demonstrate this with two examples. We will talk about the first example in this post: displays that are used in the monitoring of fire alarm systems and for fire prevention.
Fire Alarm Systems for Highway Tunnels and Airports
One of our customers, who regularly orders monitors, specializes in fire alarm systems. We are not, however, speaking about fire alarm systems for domestic use, but systems that can be found in highway tunnels and airports. These are systems that must meet special requirements, so that they can operate over a long period of time in these areas. Additionally, these systems are monitored and controlled from a central point that is not in the immediate vicinity of the fire alarm system.
Optical Sensors register the Development of Smoke
This can be easily imagined in a highway tunnel. The sensors that have to measure the development of smoke or fires, are exposed to a variety of sensing requirements. This is why our customer relies, amongst other things, on fiber optic sensors. In this case, these are sensors that primarily gather light signals. If the light conditions in the highway tunnel turn darker due to fumes or smoke, then the sensors send a signal to the monitoring center.
Video Images transmit the initial Picture of a possible Emergency
These monitors that we deliver to our customer, display this information. Amongst other things, they display readings that are transmitted via sensors. The monitors are also used for simple video monitoring, which a highway tunnel can not do without. Because the video images can supply an initial picture of the situation in the tunnel.
Simple Monitors with specific Specifications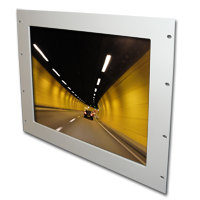 As mentioned before, these monitors are a part of our daily business. Nonetheless, we would like to demonstrate a few specifications with which the monitors are configured. For these monitors, we use the respective non reflective protective pane. The pane is framed by a Rack Frontal Plate with the white-aluminum color (RAL 9006), which we call the classic industrial grey. The monitors have a VGA and DVI port and have a broad voltage power supply, where a voltage power supply of 110 volts up to 230 volts is possible.
In the next post, you will learn what sort of requirements monitors must meet, that are used in the manufacture of pizza cheese.
Related products:
19" industrial monitor rack mounted – "Lizard" line