We always find inquiries intriguing that we receive from research facilities. With this inquiry, it was regarding a mobile research station, a ship, which explores the connections in the ocean. A Panel PC was requested, which is a combination of a monitor and a computer, where the PC components are placed inside of the expanded monitor housing.
It was important, that the Panel PC was completely waterproof
The institute's idea was to use the Panel PC on the research ship, so that the readings could be partially processed on location. For this, a Panel PC was to be utilized that would be corrosion resistant against the prevalent ocean air. Additionally, it was envisioned that the device would be an installed as a mounted solution on the ship.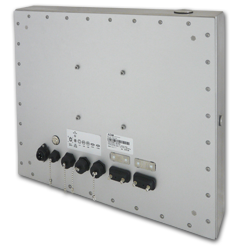 It was to be powered by an operational voltage of 220 volts or 12 volts. The most important criterium that was named, was the absolute waterproof characteristic of the device. If one was to imagine the future location of deployment, it is not surprising.
Power Supply with a Variety of Voltages with a Broad Voltage Power Supply
After a number of conversations with the institute, we established the Panel PC's basic parameters . We found out that a desktop solution with wall mounting was the more appropriate option for the research ship. This way, the Panel PC could, under dire circumstances, be moved in a number of direction. Additionally, we decided on broad voltage power supply for this PC, that could cover voltages of 110 up to 230 volts of an alternating current.
The housing on the Panel PC was comprised of a brushed stainless steel with IP65 protection, in order to offer the waterproof criteria. The IP65 protection also applied to the connections on the back of the Panel PC. These are the USB-, ethernet- and RS232 connections, as well as the power connection. Additionally we did without a ventilation with this computer, so that no water can enter the computer via this route.
Related products: