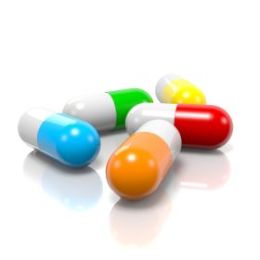 A short while ago, we delivered a selection of monitoring displays with a control interface, to a pharmaceutical company. With the aid of the monitors, the company wants to change over to a paperless production. We were told, that these monitors are not only used in the manufacturing process, but also for quality control and to monitor the packaging process of the pharmaceutical products.
Monitors with Special Requirements in the Pharmaceutical Field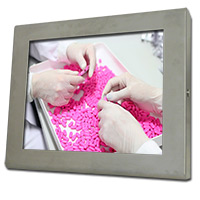 When a pharmaceutical company needs monitors, special hygienic requirements must be fulfilled. Even if it only concerns monitoring displays. In this case, however, the monitors had an additional requirement, in that they were to be used as a control console. That is why the panels needed to allow an operation with gloves, as an additional requirement. In the pharmaceutical production gloves are utilized, in order to prevent a contamination of the products.
Paperless Product Monitoring with Touch Panels
As it was explained to us, a paperless monitoring was to be achieved with the monitors. All the information will be entered directly via the touch panel and transmitted from there to a central computer. Subsequently, the information is transmitted to the other panels, so that each employee knows what is being manufactured and how far production has progressed. Additionally, the entering of quality control data is performed via the touch screen.
What we delivered: Stainless Steel Monitors with IP65 Protection
For this reason, we delivered a number of Monitoring Displays with a V2A Stainless Steel Housing. The monitors met the IP65 requirements. They are protected from dust and strong water sprays. The monitors were equipped with a resistive touch screen, that could be operated with sterilized gloves. The power supply is a broad range power supply, that works from 110 up to 230 volts. For the connectors, the company required an IP54 protection, so that they would be protected from hard objects and water sprays.
Related products:
17" Stainless Steel Touch Monitor with TRUE FLAT Front – "Taurus" Line
15" Stainless Steel Touch PC with TRUE FLAT Front – "Taurus" Line