A few months ago, the Town of Beelitz inquired about a Panel PC. In this inquiry, we learned that the town wanted to convert an old telephone booth into an information terminal for tourists. With the aid of this terminal, the tourists can learn about the town's offering, without being bound to hours of operation. Because we found the idea to be innovative, we were highly interested in the project.
A Vandal Proof GFG Touch for the Information Terminal
The town Beelitz's requirements were a logical conclusion for us, considering the Panel PCs' planned place of installation. They had to be robust, weather proof, vandal proof and theft proof. We therefore decided on a Panel PC from our Lizard Series. These fan less Panel Mount PCs are comprised of a V2A stainless steel housing, that is bolted from the rear. The touch screen is a GFG, a Glass Film Glass Touch Screen, which is especially robust and vandal proof. Additionally we chose a high brightness display, with a luminosity of 800cd, so that the display could also be read in during daylight.
Information about Tiling Optics for Touch Operation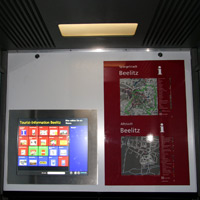 The software for the tourist information terminal originated from a company in Beeltitz. They generated a display on our equipment with a tiling optic. The users of the terminals can pull up the desired information with a simple click of the finger. Amongst other information, there are available accommodations in Beelitz or which destinations can be reached by the tourists. Aside from the Information for tourists, the town goes one step further and offers the citizens the most important news and information. The terminal is functional around the clock and is illuminated in the evening by an automatic light sensor.
First real Heat Test – The Information Terminal works at a heat of 45 degrees
The terminal has been in use for a few weeks now and has completed its first trial by fire. After we experienced a short term heat wave in the past few weeks, we asked ourselves if the equipment worked flawlessly. We were assured, that everything was fine. During the hottest days, a measurement was even taken inside the former telephone booth. The thermometer read 45 degrees.
Additional questions about the terminal, such as how the software is transmitted from the town hall or which background music is offered to the user of the terminal, are happily answered by the town of Beelitz. At this point, we would like thank the Town Beelitz for the trust they placed in us and we were very excited about the pictures of the finished information terminal.