A short while ago, we outfitted an authority with a Panel PC. This case involved a computer, that allowed employees of a school cafeteria to coordinate food portions for the students. The Panel PCs were utilized directly in the kitchen. That is why special requirements had to be fulfilled.
Keypads: A Place for many Germs
When hygiene plays a major role, then the Panel PCs must fulfill special requirements. The hygiene requirements must be offered, without compromising the operation. Touch Panels are especially well suited for this area. In most cases, one would do without a keyboard with these panels, so that no germs can accumulate on them. Additionally, if these Panel PCs have an appropriate housing, then they can be easily cleaned. This too is a requirement, so that the computer can be utilized in a surrounding, where hygiene is of paramount consideration.
Panel PCs, that also work with sterilized Gloves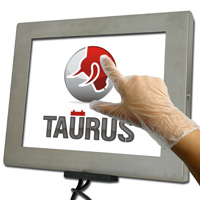 When we were commissioned to outfit a public school with touch panels, we had to proactively think about an additional consideration. In the cafeterias, where the food is dispensed, the employees wear sterilized gloves while working. For us this meant, that the Touch Monitors also had to respond to the employees' input with gloves.
Our Solution: GFG Touch Panel with a IP65 Housing
For this reason, we delivered a scratch resistant GFG (Glass-Film-Glass) Touch Panels. This has the advantage that the touchscreen will not easily scratch during cleaning. If, however, a few scratches were to appear on the touch surface, the input would still work. We routed the cables to the rear, via a removable plate on the Panel PC and we outfitted it with an IP54 protection. The computer's housing was comprised of brushed stainless steel with an IP65 protection, with which the PC is protected against water spray.
Related products:
Panel PC with stainless steel housing "Taurus"
Monitors with stainless steel housing "Taurus"