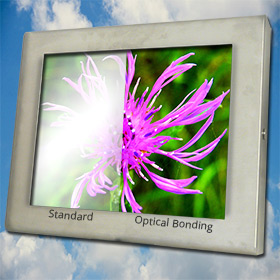 Highly functional monitors are sought out more often on a daily basis. Every day we communicate via smartphones, PDA's and the monitor at the bank teller, for example. A high quality method of sticking a protective coating onto the monitors is therefore in demand. They offer protection against moisture and make it possible to read the monitors, even if they are exposed to direct sunlight. A technology that has been highly successful in this area for the past few years, is what is known as Optical Bonding.
The direct connection between the touch panel and the monitor
Many touchscreens have a touch panel, that is mounted just above the actual display. This creates a little air pocket between the two components, which can generate undesirable reflections. Especially with direct sunlight, the readability of the display is highly compromised. The solution: with Optical Bonding, the display and touchscreen are directly connected (as an alternative to protective glass). During the lamination of the individual parts, a highly transparent adhesive is employed. The important aspect of this adhesive, is that it does not change, yellow or optically harden under extreme conditions such as temperature changes and direct sunlight.
Optical Bonding offers you these advantages
The direct connection of the display and touch panel or protective glass, offers advantages, especially in outdoor applications. The connection offers a conductor without reflection between the components, that allows for a high contrast recognition in a bright surrounding. In conjunction with a high quality LED display, only minimal optical shortcomings can be detected. Additionally, the high quality laminating technology also protects and offers additional advantages:
No condensation of the screen
Dirt is kept out
No overheating in direct sunlight
Through the direct connection of the components, the monitor becomes more robust when exposed to shocks and vibrations. The effect is very similar to the way safety glass works, so that the screen is actually protected from extreme forms of vandalism. ADM Electronic recommends the deployment of this technology in all areas where high demands are placed on the displays. Outdoors and in direct sunlight, theses advantages should not be ignored.