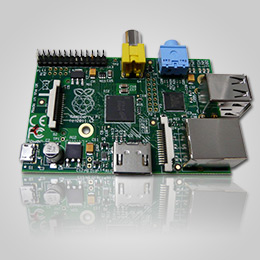 Simple construction, complex in its effectiveness. That was the goal of the developers of the Raspberry PI Foundation when they created the Raspberry PI. The micro computer is based on no more than one ARM circuit board and is constructed in a manner that is easy to grasp. Initially designed to facilitate the learning of programming and hardware skills, this single circuit board computer is also a very sought after machine in real life applications. Here you can find out what makes the mini computer so special – and how you can use it for yourself.
Raspberry PI in real life applications
Due to the inexpensive price and minimal electricity usage, not only schools, but also industrial and trade industries are increasingly relying on this flexible system. The open source GPIO-interface of the Raspberry PI, offers the users the possibility to control LEDs, sensors and displays. An integrated VideoCore IV graphics processor makes it possible to play back movies in full-HD resolution. This yields a plethora of usages.
In real life applications, the Raspberry PI can also be used in:
Controlling of digital inputs and outputs, web server,
multi media player,
car computer,
and in the controlling of building technology (alarm system, heating, lighting).
The Raspberry PI has also proved itself as a reliable machine,  for the display and entry of data (temperature readings for example) . The combination of a mini computer and a touchscreen is an especially popular application.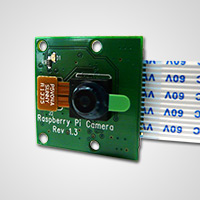 Single circuit board computers are easy to use. In order to program the functions, one does not need to be an expert in embedded systems. That is because, the Raspberry PI is based on the popular Linux platform. This is already installed into the machines by ADM Electronic. It is also not a problem to retrofit the Raspberry PI with a modular expansion. With an integrated camera or an expansion card, the Raspberry PI can tailored to suit your needs.
Raspberry PI in the machines by ADM Electronic
ADM Electronic already offers the Raspberry PI with the most important accessories. Aside from the PI-Board you will also receive a suitable display and a preprogrammed controller, which you adjust to suit your own presets. An SD card with the Linux operating system is also available separately. For a user friendly experience, you will receive the Raspberry PI already pre installed in our Panel Pc's.
Overview of technical features
Single circuit board computer with a Broadcom BCM2835 700 MHz ARM1176JZFS-Processor
FPU- and Video Core VI Processor, Dual Core with 128 KB L2-Cache, 250 MHz
512 MB RAM
Bootable from SD card with Linux OS preloaded (sold separately)
Powerful GPU with hardware accelerator and 1080p30 H.264-Decoding (mPEG 4) for high resolution video play back
10/100 BaseT-Ethernet-Port
HDMI- and RCA composite video ports
2 USB 2.0 ports via an internal hub
Power supply via a mini USB port
Power usage: maximum 3,5 watts (700mA)
Slot for SD card
3.5mm jack for audio output
Pin port for GPIO interface and serial buses
Input port for Raspberry PI HD video camera
5 status LED's for: power, SD card access,  LAN 10/100 Mbit, LAN Full-Duplex, LAN Link and access
Dimensions: 85.6mm x 53.98 mm x 17 mm (length x wide x height)