Stainless steel PCs and monitors with IP 65 and IP 67 protection
PCs and monitors have to withstand various demands, particularly for production systems in the food sector. For example, they should be specially protected against the ingress of dust and dirt so that the electronics installed inside are not affected. The fine particles could penetrate through connections and small joints and permanently weaken the functionality or bring it to a complete standstill.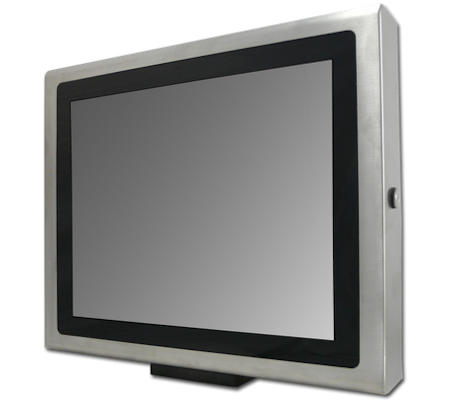 Water jets can also be encountered by the devices. Appropriate protection must therefore also be guaranteed here. Because even if no water gets to the monitors in production, they can come into contact with them during regular cleaning due to the environment or operating option (e.g. touchscreen).
That is why we offer industrial monitors that at least correspond to protection class IP65. If the monitors as operator terminals may even be immersed in water (for example in car washes or the like), then the IP67 is used.
Where the environmental conditions do not allow the operation of unprotected monitors – be it in workshops and laboratories or as public terminals at airports or train stations – dust-proof and waterproof monitors must be used. Because the technology should work safely for many years despite difficult circumstances. If screens cannot be permanently protected from disturbing influences such as dirt and moisture, dust, germs and bacteria, they have to be particularly robust .
We recommend that you first determine what amounts of water the monitor is exposed to in the extreme case . Does it only have to be protected against splash water or is it immersed in a water basin ? Does the screen come into contact with condensing water or is it used in the outdoor area , where snow and frost are also possible?
In car washes, there are difficult environmental conditions for screens: high humidity , jet water , large temperature fluctuations . We developed a monitor that works under these extreme conditions. The screen is waterproof and tight against water jets and dust. This corresponds to the requirements of the IP65 standard. It can also be used at a humidity of 5% – 95% and temperatures from -20 ° C to 70 ° C. Thanks to the monitor, customers of the car wash can be given visual support when parking the vehicle at the optimum point.
Clean room
The point of whether a monitor is waterproof is also decisive for whether it can be safely cleaned with disinfectants, for example. Because cleanability is an important aspect, especially when using devices in clean rooms. Therefore, screens have to be insensitive to cleaning agents and disinfectants . We intensively test the material on our monitors for resistance to the agents used.
Bakery
If a monitor is to be operated in a bakery (e.g. for querying recipes, etc.), it should be easy to clean, since of course the hygienic requirements common in food production must be met. Above all, it is important that the screen is waterproof (for cleaning) and dustproof (protected against flour dust, etc.).
Ice production
We developed a waterproof monitor that is used in the production hall of an ice cream factory. A screen there has to withstand very special requirements. It is particularly important that the entire device is waterproof and suitable for wet rooms. In addition, the computer must be able to cold and the screen must be resistant to cleaning agents.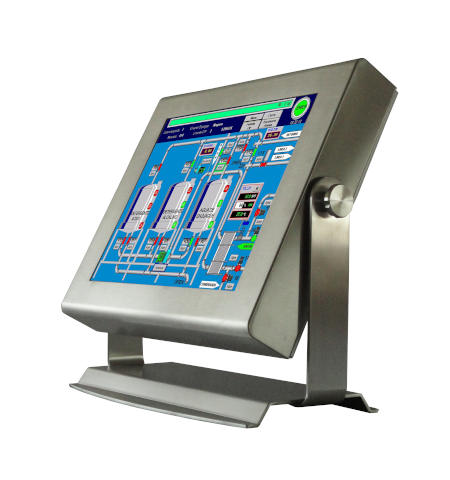 Info terminal
Information terminal screens must be robust , weatherproof , secure against vandalism and theft. They also have to function reliably in heat waves or in winter.
Freezer rooms
In frost and cold, we use monitors that are designed for the extended temperature range . This means that the monitors can be used at temperatures from -25 to +70 degrees. As with wet rooms, the other components of touch panels that you want to use in freezing temperatures must also be correct. The connectors on the screen and all other components must function perfectly even in frost.
The Taurus Panel PCs have the same mechanical properties as the Taurus monitors. In addition, the devices have a PC unit and a touch screen.
We offer our stainless steel line Taurus as a monitor or as a panel PC, i.e. a monitor with an integrated computer. The display sizes vary between 15 "and 24". Depending on your requirements, you can choose to have the Taurus in protection class IP65 or IP67.
The industrial monitor "Taurus" is protected against jet water, splash water and dust by the protection class or protection class IP65 or IP67. It is available in sizes from 10" to 24".