Industrial PCs are necessary for operational data acquisition and production control. The requirements for these industrial computers are high reliability and perfect performance under harsh conditions, and sometimes high temperatures with splash water or chemicals, which are far from ideal for a computer. ADM industrial PCs are designed for this and do their work reliably.
A transparent production process offers the opportunity for quick correction options. In the end, this reduces costs, and manufacturing and process flows become more efficient. Perfectly functioning technology ensures the quality of the production.
Depending on the requirements, industrial PCs are available in various mechanical variants, e.g. as a boxed PC, embedded PC, IPC for top-hat rail mounting in the control cabinet, as a desktop panel PC, as a panel mount or as a panel PC in a support arm solution. However, the main difference between the industrial computer variants – in addition to the mechanical design – is whether the system has an integrated display and can be operated using touch technology, or whether they have a conventional display.
In contrast to common office computers in normal rooms, industrial computers have to be resistant to the harsh environmental conditions in production halls. It can be dusty, damp, hot or cold here – and alternately. Normal computers would break down in a very short time due to short circuits or overheating. Our industrial PCs are therefore built precisely for these conditions: splash-proof and fanless, the sensitive technology is safely stored in closed housings.
Industrial PCs have to work reliably and without system failure. They should have as few wear parts (e.g. fans) as possible in their equipment and be easy to maintain, so that e.g. A hard drive can be exchanged within a few seconds. In the worst case, a defective panel causes an entire production line to fail, which can result in considerable financial and time losses.
Depending on the customer-specific requirement, we have the right industrial computer for you: as an integrable PC / embedded PC with different performance levels in compact, flat, fanless housings. PCs with selectable components and processors, with all necessary interfaces and suitable for the operating systems Windows and Linux. Or as a robust panel PC in various sizes for installation and individually configurable.
We developed a Panel PC for a customer, which is used in the production hall of a rolling mill. Thanks to the IP65 stainless steel housing and the heat-resistant components, it can easily be used at temperatures up to +70 degrees Celsius.
We developed an industrial PC including a touch panel for the production of carbon fibers. Aggressive substances such as dimethyl sulfoxide (DMSO) are also involved in the production of this fiber. The technology had to be resistant to these.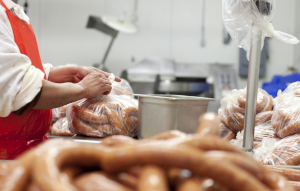 In the food industry, it is common for the devices used to meet protection class IP65. We carry out configurations for our customers and thoroughly test the industrial PCs so that they work reliably.