Flat and versatile – our industrial PCs with touchscreen are available in different versions. Touch panels are ideal for applications with high hygienic standards, but also for harsh production environments. Reliability and simple operation are a must, especially in industrial applications. Depending on the requirements in daily operation, touch panels can be equipped with different operating systems, processor and memory performance. With regard to the touchscreen, there are various technologies that are selected depending on the application.
In the video you can see very well how the operation is possible even with gloves. Even if there is water on the display, operation is not restricted as the software recognizes the water as a foreign body and does not evaluate it as an active touch by the operator. You can also use this touch panel under adverse conditions.
The technology behind the terms PCAP and PCT (Projective Capacitive Touch / Projected Capacitive Touch) had its breakthrough with smartphones. Therefore, the most prominent examples of use for projected capacitive touch screens are tablet computers, smartphones and cell phones with touch screens, electronic organizers, personal digital assistants, portable media players and game consoles.
Meanwhile, PCAP technology is also used in industrial automation, in the food industry or in the chemical and pharmaceutical industries. Due to their suitability for outdoor use, capacitive touchscreens can be found at banking terminals or other machines. Thanks to their smooth, seamless surfaces, they are also suitable for applications in the medical sector. Capacitive touchscreens can be operated with the hands or with conductive stylus. However, they do not work with gloves or with conventional styluses.
Benefits
Multi-touch operation with up to ten fingers at the same time
completely smooth, seamless design possible
long service life even with scratches or cracks
resistant to water / easy to clean
resistant to liquids, chemicals and dirt
very high transparency and visibility, especially when used outdoors
robust and vandal-proof installation
Disadvantages
Operation is only possible with the fingers, with thin gloves and with special conductive stylus
comparatively expensive
The GFG Touch works just like a resistive touch screen – with the difference that the outer surface consists of a very resistant glass pane. This also gives better light transmission. The glass surface of the GFG touch screen is very resistant to scratches, alkalis and acids. These industrial touchscreens can also be used in the extended temperature range from -25 ° to + 70 °. It can be operated with your fingers, gloves and other objects (e.g. chain gloves or knife tip) without damaging the touchscreen.
Since the GFG touchscreen technology is particularly robust, these touch panel PCs are very suitable for industrial automation, mechanical engineering, medical technology as well as the food, chemical and pharmaceutical industries. Incidentally, the GFG Touch is also the only touch panel that can withstand permanent contamination with blood. This is particularly important in meat processing. Installation is just as easy as with a normal resistive touch panel.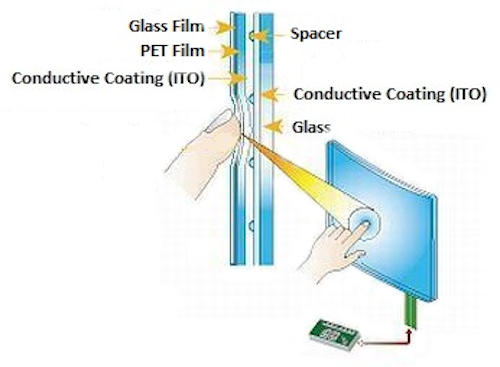 Benefits
resistant to rain, snow, ice, heat and dust
very resistant to chemicals (acids and alkalis)
resistant to blood
can be operated with fingers, gloves and objects
also works with deep scratches
very robust, safe from vandalism, long lasting
disadvantages
The most commonly used touch panel in the industry is the resistive touchscreen with 5 wire technology. It can be operated either with your finger, with gloves, or with a touch pen or touch pen because it reacts to pressure on the screen. The monitors with the resistive touch screen technology can be used perfectly in the typical, harsh industrial environment because they can be well protected against splash water, dust and high air humidity. However, the surface consisting of a film is very sensitive to scratching.
These Panel PCs are inexpensive, easy to install and flexible to use. They are often used in industrial automation, medical technology and the pharmaceutical industry, in point-of-sales terminals (POS) and in building automation.
Benefits
insensitive to dirt
cheap
can be operated with fingers, gloves and other objects
Can be used in damp rooms
high resolution and precision
Disadvantages
Light transmission only about 70-80%, so slightly "milky"
easy to scratch
poor resistance to chemicals