LED panels for easy integration into your system
LED displays from ADM electronic visualize data and processes in order to optimize work and information processes. Present your data on the spot with an LED display. Our modular display boards impress with their brilliant and clear presentation. Thanks to the high luminosity of the LEDs and an optimized matrix, they offer excellent readability, even at greater distances of up to 200 meters and especially in the outdoor area.
Scoreboards with text and graphics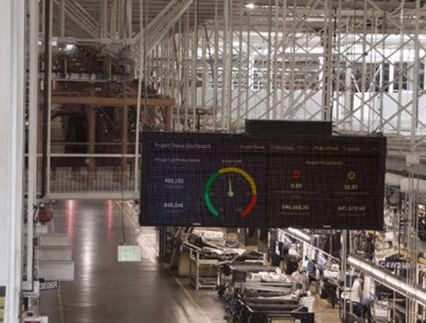 Adapted to your requirements and needs, we ensure that the displays show all required information as text and numbers. If several LED modules are interconnected, graphics can also be displayed on the LED panels. Our display units offer an enormous advantage over finished modular systems. You can expand the displays as desired and design them according to your wishes.
Display control via integrated software
We create graphically demanding representations with the integrated SCADA software that we program for you. All the required data is recorded in real time, processed and displayed graphically on the LED panel.
Do you have special data or applications? Please take
Kontakt
with us.
Display of measurement data on the LED displays
A great advantage lies in the diverse connection options to a PLC or to measurement data acquisition and process control systems. So you can relevant data, e.g. from PLC-controlled machines as sophisticated visualization on LED displays. The employees therefore have all important information immediately in view without having to use an operator terminal.
LED displays for outdoor use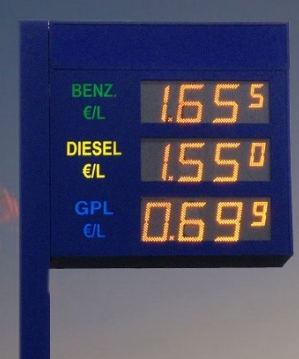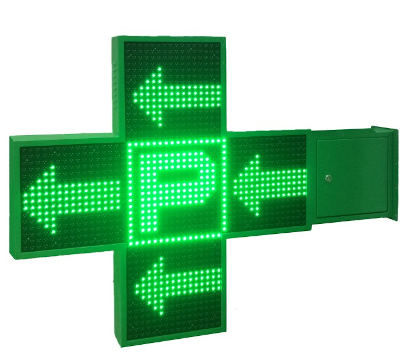 LED displays from ADM electronic are produced according to protection class IP65. The displays are dustproof and protected against splash water. With a brightness of up to 7,500 cd./m² and an operating temperature of -20 ° C to + 60 ° C, the modules are also ideally suited for outdoor applications.
ADM display units can be arranged vertically, horizontally and square. Graphics, photos, texts and numbers are displayed optimally. An arrangement in a staircase or diamond shape is of course also possible.


Interfaces
The ADM display modules also achieve enormous flexibility by supporting the usual standards. In this way, you can have your data dynamically displayed directly and without detours on the LED displays. If the LED display is far away, it is recommended to transfer data to the display via WLAN or, for larger distances, also via mobile radio (4G LTE). The LED displays could also be in another city and you can easily manage the display boards from your headquarters. Our displays can be controlled via the following interfaces:
RS-232, RS-422/485, Profibus, Profinet, EtherCAT, Modbus / TCP, EtherNet / IP, CANopen, DeviceNet, Wi-Fi, 4G LTE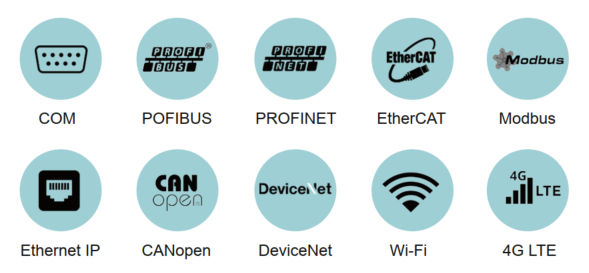 Application examples for LED displays
Display in production and measurement technology for physical process variables such as Quantity, flow rates, frequencies, pressure, weight, humidity, temperature, speed, time, etc.

Data Display li>
Advertising li>
Information display in public buildings
passenger information li>
price lists li>
Digital signage
OSH ads li>
Level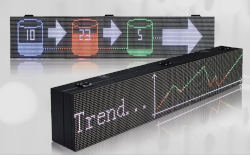 Weight display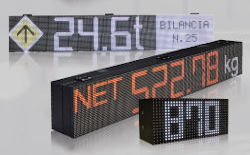 Day display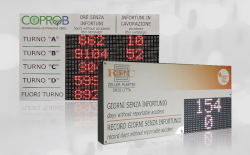 Warnings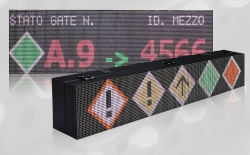 Kontakt mit uns auf.
Planning and implementation of your LED displays from a single source
We take care of your project completely, from planning the LED display to implementation. Programming of the graphical user interface, connection to PLC or MES systems. You get an operational complete solution for your customers. Through the free selection of relevant data and the type of graphic representation, your specifications are implemented customer-specifically. And if you want to make changes later, speak to our support and we will adapt the LED display boards for you.