Exchange of old CRT or defective TFT monitors
CRT monitors are still installed in many older CNC machines or other machine tools. ADM offers replacement monitors for the controls from all common manufacturers. ( Overview manufacturer ) The TFT replacement monitors serve as a replacement for defective or old tube monitors and TFT screens. They are 100% compatible and the exchange can be done quickly and easily. The machine can be used again within a very short time.
Easy exchange using the "plug & play" principle
These monitors are both electrically and mechanically adapted to the original controls and therefore enable easy conversion: - Old monitor out. - Connect the cable of the new monitor to the control - Insert and screw new monitor - Done All replacement monitors were designed for 24/7 continuous operation and are developed and manufactured in Germany using only high quality industrial components.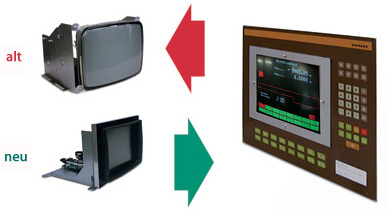 Replacement monitors
Please contact our customer service. They will help you quickly.
Easy exchange saves time and money
Less machine downtime thanks to faster delivery As a rule, the replacement monitors are available from stock and - if requested - can be sent directly on the day of the order with express delivery. The duration of a possible machine standstill can thus be reduced and production can continue without unnecessarily large time and financial losses. Individual adaptation to your control Despite extensive and many years of experience, it can always be the case that your desired control or machine is not included. No problem! Just contact us. Our development department is always interested in the implementation of new replacement lines.
We can supply replacement monitors for almost all manufacturers of CNC machines or other machines. If your machine is not included, please contact and. We will surely find a solution to your problem quickly.
Agathon Agie Amada Arburg Boehringer Bosch B&R Bühler Charmilles Cybelec
Delem Engel FANUC Ferromatik Gildemeister Heidenhain Heller Hermle Hurco Index
KraussMaffei Makino Mazak Mitsubishi Mori Seiki Okuma Osai Philips Reishauer Safan
Schenck Seibu Walter Siemens Sinumerik Siemens Simatic Stork Trumpf Wöhrle Universal / Multisync
Anlage / Hersteller Grafiktyp / Steuerung Original CRT / TFT Bestell-Nr. ProdukTübersicht Ersatzlösungen für Industriemonitore AXA Philips CNC 3460 2M2812XCTX01 2361657 AEG A500 / A350 VIP 10 17" EIZO 9070S 2361111 AEG Viewstar 200 AEG Typ CMR 125 14" Viewstar 200 2361112 ABB BBC / PROCONTROL 20" Farbe 2361113 COROS --- 2361114 TESSELATOR Serie 7000 14" Farbe 2361115 Agathon 250 PL-CNC-Ultra 250 PA-CNC-Ultra 9" mono (grün) 2363088 350 COMBI CNC 12,1" TFT Sharp LQ121S1DG11 2364083 250 PA-CNC 14"CRT 2364138 AGIE AGIE AC 100, AGIE 150 AGIETRON 100C, AGIETRON 200 AGIECUT 100D, AGIECUT 200 AGIEMATIC C (CU) AGIETRON Console 14" Farbe Grafikkarte VCB01 2361116 AGIETRON (Miniconsole) AGIEMATIC CUT C 14" Farbe Grafikkarte VCB01 2361117 AGIEMATIC CD 14" Farbe 2361118 AGIEMATIC CF 14" Farbe 2361119 AGIEMATIC T 14" Farbe 2362391 AGIE / AGIEVISION   AGIECUT Evolution 3 15" TFT LCD - ID 022437.8 Console Evolution ID 629203.1 / 693964.9 2361224 AGIE AGIECUT Classic V3 15" TFT Display 2363716 (TFT Display ohne Ansteuerung) AMADA APX 100 CNC Laser AMNC Operateur OPC8XA CPU 286 / 386 / 486 Aton C58990 12" CRT (KME 26512M004) 2361923 HFE 10,4" TFT 2361640 HFP 15" TFT Touch 2362454   ARBURG 220M / 221M ARBURG   Allrounder, Dialogica, Multronica 9" monochrom Philips M24-306GH/PD 2362856 12" Farbe Philips M31-340GH/PD Mitsubishi HF1200AE 2362231 Dialogica Mitsubishi EUM-1282M 2361120 Battenfeld Schleicher Unilog 8000 14" CRT 2363168 Beyelers SWISSAX 9" monochrom Philips M24-306GH/ED 2361548 Boehringer                     VDF 180 C OERLIKON Boehringer   VDF180C, VDF250C-U, VDF 315 C, VDF400C, ... B2T,Philips CNC 3000 Series,Bedienfeld Drehen V200, Heidehain ID 322 055-01 12" Farbe/Mono B2T MM 12100-390,           ID 320 066-01 123007 B3T, Philips CNC 3580 12" Farbe - B3T Heidenhain                 ID 367 957-01 123008 BOSCH HÜLLER HILLE WEILER UD 24 CNC TRUMAGRAPH CC100T / 100M / 120M 9" / 10" CRT 2361121 CC200 / CC220M / CC300 / CC320 12" monochrom MM12005U-255B 2361122 CC200 / CC220 / CC300 / CC320 14" Farbe MAC2014 2361123 Bühler datacess, datacess SC, 630 SC 12" Farbe 2361906 BWO / Heckler & Koch CNC 785 / CNC 785-H EL Sharp LJ51AU327 2361302 Charmilles Roboform 100 / 200 / 400 Robofil 100 / 200 / 400 / 600 9" monochrom 2361124 Roboform 84 / Sodick A65 14" Farbe 2361413 Robofil 290F / 310F / 510F (Fanuc) 14" Farbe 2363061 Roboform  20A / 22 / 30 / 31 / 35 / 40 / 41 / 50 / 51 / 54 / 55 Roboform 20 / 400 / 810 / 2000 / 2400 / 4000 Robofil 290 / 290 AWT / 295 / 300 / 510 / 2020 / 2030 / 4020 / 4030 / 6020 14" Farbe 2362004 Robofil 310 Roboform 20 CC14V 14" Farbe 2365089 CHIRON Sinumerik 810 9" monochrom 2361283 Cincinnati Milacron Acramatic 2100 14" Farbe 2361681 Citizen M20 Mitsubishi Meldas 14" Farbe / 12" monochrom 2361161 Crede Elektronik Schweißsteuerung T9S 9" monochrom (grün) 2361213 CYBELEC CNC 3200 9" monochrom 2361961 DNC 70, DNC 74 9" monochrom 2361919 CNC 7000, CNC 7300, DNC 7500 9" monochrom 2363049 DNC 30 9" monochrom 2362112 DNC 7000, DNC 7400 12" / 14" monochrom 2361912 DNC 90, DNC 94, DNC 900, DNC 904 14" Farbe 2361911 DNC 80 10,4" TFT Display 2363919 DNC 800, DNC 806 PS (Steckversion) 10,4" TFT Display 2362075 DNC 800 (Befestigungslöcher) 10,4" TFT Display 2362514 DNC 1200 12,1" TFT Farbe 2363223 DNC 9000 12" monochrom 14" Farbe 2364093 EURO III 9" monochrom 2364091 TFT Displays ohne Ansteuerung: DNC 10 5,1" TFT Display Optrex 2364092 DNC 806 10,4" TFT Display LM-CH53-22NAP (Sanyo) 2363411 DNC 880LS 10,4" TFT Display LQ104V1DG51 (Sharp) 2363641 DNC ModEva10 10,4" TFT Display PD104VT2 (PrimeView) 2362018 DELEM DA-58, DA-58e, DA-59, DA-65, DA-69 12" Farbe, 26C12001 26C12MA001, 26S12MA001 2361241 DA-23e, DA -24, DA-24e, DA-54, DA-64 12" monochrom 2361242 DA-23, DA-42 9" monochrom 2361243 DA-21, DA-21e 7" monochrom 2361244 Donau Danusys iTNC530 15" BF150 2363729 DROOP & REIN System IBF 14" Farbe 2361180 ELESTA VI S4 VISULESTA 4 7" monochrom 2361133 ZBS002A00 9" / 10" monochrom 2362125 ENGEL (KEBA) EC88 EL, EC100-A02 RC90, RC100-A01 LJ640U32 (8,9" Sharp) LJ640U34 (8,9" Sharp) 2362045 ESA TRIS 7600 E 9" Farbe - EGA / TTL 2361426 9" Farbe - RGB / VGA 2361427 14" Farbe - EGA / TTL 2361235 14" Farbe - RGB / VGA 2363499 Exner E 402 14" CRT 2363033 Fanuc (GE FANUC) Serie 6, 10, 11, 15, 15A, 15B, 15M, 15T, 16, 16M, 16P, 16T, 18, 18M, 20, 20T         MATRA Fanuc Tape Cut W1 14" Farbe A61L-0001-0074 A61L-0001-0094 A61L-0001-0096 (TTL) A61L-0001-0097 Toshiba D14CM-06A, D14CM-01A Hitachi      C14C-1472DF C14C-1472D1F-A Matsushita TX-1450ABA Tatung CD14JBS, DNC 94 / 96 A02B-0084-C177 A02B-0094-C041 A02B-0222-C071 A02B-0222-C072 A02B-0200-C071 /MBR A04B-0224-C220 2361135 Anschluss-varianten: 20pol./3reihig Mini-Flansch PIN Mini-Flansch BUCHSE Serie 3, 3M, 3T, 10, 11 12" Farbe A61L-0001-0077 A61L-0001-0087 2361136 Serie 3 12" monochrom (grün) A61L-0001-0073 2363058 Serie 16-TT / Unit LCD MDI A02B-0120-C061 / TA / WA 10,4" TFT 2363880 Serie 15-M / Unit LCD MDI A02B-0163-C332 9,5" TFT 2363877 Serie 16-M / Unit LCD MDI A02B-0200-C061 / MB / TBS 9,5" TFT 2363881 MSC 518 FANUC / Unit LCD A02B-0200-C115 9,4" TFT 2363882 Serie 0, 0M, 0T, 6, 6B, 6BT, 6M, 6MB, 11, 11M, 11T, 15M Serie 0M mit Graphic / MPG A16B-1210-800B CRT Unit A02B-0120-C051/TAR CRT Unit A02B-0120-C041/TAR 9" monochrom A61L-0001-0071 A61L-0001-0072 A61L-0001-0076 A61L-0001-0079 A61L-0001-0086 A61L-0001-0092 A61L-0001-0093 Toshiba D9MM-11A MDT947B-1A MDT947B-1B MDT947B-2B TX901-AB KF-M7099H 2362819 Serie 15, 16, 18, 20, 0-B 9" Farbe A61L-0001-0090 A61L-0001-0095 (D9CM-01) A61L-0001-0215 / B D9CM-01A, TX-901AB 2361138 Serie 16L LCD MDI A02B-0200-C061 A02B-0200-C050 2363045 Serie 16, 18, 21, Power Mate, MF-T8 9" Farbe (Plasma Display) A61L-0001-0116, A02B-200-C100, A13B-0160-C001 2363502 Serie 18-M / Unit LCD MDI A02B-0222-C136 / MAR 8,4" TFT 2363878 Serie 18-T / Unit LCD MDI A02B-0120-C131 / TAR / TAS 8,4" TFT 2363879 TFT Displays ohne Ansteuerung Serie 6i, 160i LA, 18i, 20i, 21i A61L-0001-0163 A61L-0001-0168 2361772 (10,4") 16i 2362390 (9,4") 18i TA 2362203 16L A61L-0001-0138 2363510 A61L-0001-0139 2363511 0-MD, 0-TD, 0-Mate, 0i-Mate, Power Mate, D, F, 16, 18, Model C / Serie 0i, 21i, 18i, 16i A61L-0001-0142 2363512 15-B, 16-C, 18-C A61L-0001-0154 (Sharp) 2363513 A61L-0001-0154 (Hitachi) 2364088 A61L-0001-0162 2363514 15M, 15T, 16i, 16M, 16T, 16i, 18M, 18T A61L-0001-0176 2363515 Serie i A61L-0001-0193 2363516 Unit LCD 9" A02B-0200-C111 2364273 Serie 18i-M A02B-0238-B612 2364548 Display Unit A08B-0084-J011 - 2363732 Favretto 14" CRT 2363055 Ferromatik K-175 IQT33, IQT44 B&R Provit 2000 10,4" TFT 5D2000.23 2363001 GEM80 GEM80 2361457 General Electric P-Scope DS7 / DSX 10" monochrom 2361139 Sophy 257 / DST 15 14" Farbe 2361140 Gercom IPC 14" 123005 Gildemeister CTX 400 / 500 / 600 Eltropilot EPL2 7 EPL2.2 / EP90 14" Farbe 2361643 Gildemeister NEF / CT20 / CT40 Eltropilo EPL2 14" Farbe 2361644 Gildemeister NEF 320 / 520 / 720 Heidenhain Manual Plus 3110, 4110 10,4" TFT BFT121G Heidenhain ID 326206-05 2363314 (TFT Display und Inverter - ohne Ansteuerung) Hauser CNC314 ELESTA 14" monochrom 2363894 Hedelius CB80 Heidenhain TNC 426 / 430 15" Farbe (BC120) 2361477 Heidenhain Manual Plus 3110, 4110 9,5" TFT BFT121 2363955 (TFT Display und Inverter - ohne Ansteuerung) TNC 123 8,9" TFT Display Sharp LJ640U32 2362981 (nur TFT Display) TNC 131, 135, 145, 145C, 150, 151 9" monochrom BE110B, BE111, BE135 Heidenhain          ID  212 300 04 ID 212 300-02   2361146 TNC 410, 410M, 426M, 430M, 416 10,4" TFT BF120 /   BF 129 Heidenhain                ID 313506-01 Heidenhain                ID 313506-02            ID 313506-11 2363048 (Einbaugerät) 2363691 (inkl. Bedientafel) TNC 155 12" monochrom (gelb) BE411 / B ID 226 917 01 ID 345 541-02 ID 375 401-21 M31-340LM / ED 2361147 TNC 355 12" monochrom BE412 / BE412B ID 345 541-01 2361148 TNC 135, 150 B/Q, 151 B/Q 12" monochrom (bernstein) BE211, BE211B, BE211F 2362184 TNC 234, 246, 2500 / B, 306, 335, 351, 355, 360 MAHO CNC 223, 322 12" monochrom (bernstein) BE212 2361559 TNC 223 12" monochrom BE311, BE311B, BE311F 2361149 TNC 332, TNC 335 12" monochrom (gelb) BE511 2361157 TNC 406, 407, 415, 425, 426, 426 C/P 14" Farbe BC110B ID 260 520 01 2361150 (Einbaugerät) 2361557 (inkl. Tastaturfrontplatte) TNC 407, 410, 416, 426, 426PB, 430, Millplus 15" Farbe BC120 ID 313 037-01; 313 037-02; ID 391 268-03 2361477 (inkl. Tastatur-Frontplatte) iTNC530 15" TFT BF150 2363729 ID 353 522-03               ID 353 522-04 15" TFT BF155M POSITIP 850 12" monochrom 2363535 (Umbau erfolgt bei ADM electronic) Heller Uni Pro NC 80 12" monochrom 2361263 Uni Pro NC 90 14" Farbe 2361153 Uni Pro CNC 90 / PLT 90 12" EL Display LJ64ZU52 2362724 Hercules Hercules 14" Farbe 2361871 Hermle UWF 721 Heidenhain TNC 155, TNC 355 12" CRT (BE411 / BE412) 2363361 Hermle UWF 900 E Heidenhain TNC 355 12" CRT (BE412) 2363365 Hermle UWF 900 E Heidenhain TNC 407, TNC 415 14" CRT (BC110, BC110B) 2363364 Hermle UWF 1001 Heidenhain CNC 355 C 12" CRT (BE412) 2363911 Hermle UWF 1001 H Heidenhain TNC 415 14" CRT (BC 110, BC 110B) 2363366 Hermle UWF 1202 H Heidenhain TNC 415, TNC 426 14" CRT (BC 110, BC 110B) 2363367 Hermle U 740 Heidenhain iTNC 530 14" TFT (BF150) 2363368 Heyligenstaedt Heynumat 5, 15FK Philips 3580 12" Farbe B3T 123008 Hitachi Erodiermaschine H CUT 2Q 14" Farbe 2361909 Hitachi Seiki SEICOS MIII 10" EL Display LJ64ZU52 2362724 Honeywell Operator Interface Panel 1103-HW 14" monochrom 2363290 Hurco VMX-24, VMX-30, VMX-42, VTX U, DCX-32 Ultimax 3 / WinMax 12" CRT 2364368 Ultimax 4 / WinMax 12,1" TFT 2362734 INDEX C200 INDEX Drehmaschine GU1500 Siemens Sinumerik 820 Sinumerik 3T 200 12" Farbe 6FX1154-8BC01 6FC3951-5MK Unigraf 512SOF 2361236 INDEX C200-8 Siemens Sinumerik 880 14" Farbe 6FC3998-7AH12 2363105 INDEX GS30 Siemens Sinumerik S3 9" / 10" monochrom 2361308 Jung JC 500 CNC-E Siemens Sinumerik 805 / 805M 12" monochrom 12" Farbe 2361895 KARSTENS Eckelmann CNC 83-BAE 14" monochrom (grün) 2362124 Kellenberger KELCO 90 14" CRT 2361647 KOMEG Messgerät 14" CRT 2361154 Krauss-Maffei MC2, MC3 12" Mono / 14" Farbe (TFT300) 2361155 MC4 10" TFT 2363112 KUHSE KMA 9601 SMA-PC 10,4"TFT 2361680 KUKA KCP, KCP2 7,7" TFT Display Sharp LM8V302 2362403 (nur TFT Display) Kuraki 15M A02B-0163-C322 2361135 LAM Rainbow 4420 14" CRT 2361215 Lauffer Rotec 12" (FMO) 2361356 LVD Bedienpanel CADMAN CNC 12" TFT 2363032 Mahlo Permaset VMT - 9B 15" monochrom (grün) 2363328 MAHO Philips CNC 500 14" Farbe 2361497 MAHO CNC 234 12" monochrom BE512 Heidenhain ID 25953701 2362171 Heidenhain TNC 332, TNC 335 12" monochrom (gelb) BE511 2361157 Heidenhain TNC 234, 246, 250, 250B, 306, 335, 351, 355, 360 MAHO CNC 322, MAHO CNC 223 12" monochrom (bernstein) Heidenhain BE212 2361559 MAHO MH 500 W MAHO CNC 132 / 223 / 232 / 322 12" monochrom BE132B 2361156 MAHO MH 600 W MAHO CNC 234 12" monochrom BE132B Heidenhain ID 23960205 2363191 MAKINO / EDNC 64 MGC3, MGE 20 14" CRT / 12,1" TFT 2362827 MAKINO (Le Blond) MC 65 Horizontal Machining Center 14" Farbe A61L-0001-0074 TX-1450AB 2361135 MARPOSS E9034 10" Farbe, monochrom 2361158 E9034, E9066 12" Farbe, monochrom 2361159 E9066, E50 14" Farbe 2361160 Matsuura Yasnac 9" Mono SIM-23 (DBM-095) 2362600 MAZAK Multiplex MP630 9" monochrom (grün) 2363041 MAZAK VQC 20 / VQC 40 Quick Turn 20 Mazatrol M1, M1T, T1 12" monochrom (grün) MDT1283, MDT1283-B, MDT925PS, MDT962B, MDT1216 C3240LP, HMI2PDB ME12PDB, ME12RDB, TR120S9C, TR120AYC, HM12RDB Matsushita C3470 NS 2361888 MAZAK SQT 200, SQT 15MS VTC-20C, ST50, H400 Mazatrol CAM M-2, M2, T-2 T PLUS, M PLUS T32, M32, M32B, M32T, M32+, M-32, T-32 Mitsubishi Melda 500 14" Farbe 12" monochrom Mitsubishi C-3470, C-5470 DR5614, MDT1283B CDT14148B, CDT14148B-1A, CD1472D1M, CD1472D1M2 CRT12B-TX32B, CRT12B-TX32E, KME 26S14019C, KME 26S14019L, KME 26S14019R Hitachi AIQ8DSP40, 8DSP-40, AQ1A-8DSP40 2361161 MAZAK Fusion 10" TFT (Inverter CXA-...) 2361894 10" TFT (Inverter NEC 104...) 2363770 MCR METRON ECLIPSE 14" 2361162 MIKRON UME 600 TNC 360, TNC 407, TNC 410, TNC 415, TNC 426 14" CRT (BE95) KME 26R14M001 2363130 Mitsubishi EUM-1491A Monitor 15" Farbe 2361163 EUM-1282M Monitor 12" Farbe 2361120 MONFORTS MNC 602-E Siemens Sinumerik 810T 9" monochrom 2361283 MORI SEIKI MORIC MSC 518 (Fanuc 18T) 9,4" TFT A02B-0200-C115 2363882 MORI SEIKI SL-20 Fanuc TF A61L-0001-0094 TX1450AB5 2361135 Motorola LAM 490 12" monochrom 25RE-A02 (Firma Kristel) 2361550 MSC Multistation 14" Farbe 2362118 Multipond Mehrkopfwaage Philips M24-316GH/PD8 2361212 muratec / CNC Fanuc Series 16-P A02B-0200-C071 - MBR 2361135 OKUMA LB15II / LT15M / LFS 10 / LU25M     OKUMA       OSP 700 CNC Control, OSP 7000, OSP 7000L, OSP 7000M, OSP U100L 15" Farbe CDJ14JBS 2361558 OSP 7000L - GE (Typ LB15II) 12" Farbe 2362101 OSP 5000 (Typ MC / LC40) 12" Farbe 2361701 OSP 5020, OSP 5020L (Typ LB15) 12" Farbe 12" monochrom 2361922 (Einbaugerät) 2363410 (inkl. Bedientafel) OKUMA OSP 700L, OSP 700M 9,6" TFT Display 2362582 (nur Display) OKUMA OSP 5000L 12" Monochrom   2365108 OSAI Allen Bradlex 8600 MC Fast 9" monochrom 2362668 12" monochrom 2362679 14" Farbe 2362680 Philips CNC 3360, 3460, 3480 12" monochrom          14" Farbe 2361222 12" monochro           14" Farbe MM 12100-390,         ID 320 067-01 2M2812XCTX01 2361657 CNC 5000 14" Farbe 2361497 NOVELLUS Systeme 12" 2361549 Reishauer RZ 10" Farbe 2361166 RG, RGB 10" monochrom 2361167 Safan, Safan CNCL Safan 14" Farbe (Touch) 2361928 Touchscreen TS1 "Banane" 12,1" TFT (Touch) 2363980 Schenck RoTec CAB 690     CAB 690 14" Farbe     15" Farbe 2361204 (15,1") 2361205 (12,1")   2364767   Schiess Nassovia OPTIMAT CNC 505 14" Farbe 2363137 Hans Schröder POS 800, POS 900 B&R Provit 500D3 B&R Provit 1000 12" CRT monochrom 12" Farbe 2362154 SEIBU Walter SW-5000 B 12" monochrom / 14" Farbe 2364351 SIEB & MEYER CNC 45.00 14" Farbe 2361256 (Frontplattenversion) 2361419 (Tischausführung) SIEMENS AS 230, AS 235, OS 252 9" bis 21" Farbe 2361179 AS 256 12" monochrom 2361168 AVUS 3, AVUS 4 12" monochrom 2361169 Bedienfeld WS 510P 9" monochrom 2361283 Coros, CP, Cracis 14" Farbe PM36-C1C 6AV8070-1BA00 6AV8011-1FE12-1AA0 6AV8011-1FE22-1AA0 6AV8021-1FE12-1AA0 6DS3402-8CA 6DS3402-8CK 2361181 14" Farbe PM36-R 2361182 14" Farbe PM36-D 2361183 PM36/61 IP30 6AV8011-1FE12-1AA0 2361184 COROS LS - C 9" bis 21" Farbe 6AV8011-1JE22-0DA0 2361170 CP526 9" bis 21" Farbe 2361171 Monitor Panel MP20/M23 CP526, CP526M 9" monochrom 6AV5020-1AC11-1AA0 2361172 Monitor Panel MP20/C25 CP526, CP527 10" Farbe 6AV5020-1BD11-0BA0 2363226 Monitor Panel MP12A-527 CP526, CP527 12" monochrom 6AV1122-1AA00 2363754 Monitor Panel MP14B-527 CP526, CP527 14" Farbe 6AV1122-2BA00 DB5-1211AA-0211001 2363034 S5 - CP526, CP526M, CP527, CP528, CP581, CRACIS, COROS, TELEPERM 14" Farbe MP40 C36-A 6AV5040-1BF12-0BA0 6AV5040-1BF12-1AA0 6AV5040-1BF12-0BA1 2361384 14" Farbe MP40 C36-B 6AV5040-1BF41-0AA0 6AV5040-1BF41-0BC0 2361173 CP 527 10" bis 21" Farbe 2361174 CP 527 17" Farbe 2361175 CP 528 10" bis 21" Farbe 2361176 CP 581 14" bis 21" 2361177 DS078 Teleperm 10" bis 21" 2361178 DC078 inkl. Lichtgriffel 19" bis 24" Farbe 2363465 Mona S5 10" bis 21" Farbe 2361179 MONA-C (Braumat) 14" / 15" Farbe PM36/C1D 6DS34040BB00 C79145-A3033-A3 6AV1472-0AA00 6AV8511-1FD21-2CA0 6AV8511-1HE52-3AA0 2361180 (15" Desktop Ausführung) PC 32 F 10" Toshiba Display 2361185 Prokon 1, 2, 3 10" bis 21" 2361186 SCD1515-E 15" TFT 6GF6230-4MV 2363221 Simatic S5 AS220, AS230, AS235, AS256 AVUS 3/4 CP526, CP527, CP528, CP581 Coros LS / A / B / C DS078, DISIT, DIMOS Gracis S5 19" bis 21" Farbe PM51/C2 6AV8011-1JE22-0DA0 6AV8011-1JE22-0FA0 6AV8021-1JE22-0CA0 PM54/C2 6AV8011-1LE62-0KA0 SCM2140 6GF6100-1BV SCD 1815-I 6GFF6220-1MV C79145-A-3047-A6 2361335 (19" Desktop Ausführung) Teleperm S5 + M VDU 2000 Coros 10" bis 21" 2361178 VISRAM 12" monochrom 2361187 WF 470 12" monochrom   (MAM 1512 J/SF) 6FM1496-2CA21 in Kompaktbedienfeld 6FMA1496-4CA11 2364554 14" bis 21" 2361195 14" bis 21" 2361189 14" bis 21" 2361190 14" Farbe 6FM1496-4DA22 6FM1496-4DA10 2361191 9" monochrom 6FM1420-1BA02 2361192 14" Farbe C79145-A-3032-A22   14"Farbe / WS400-50 6FM1450-1BB11   2361194   2363472 WF 480 Gracis 14" bis 21" Farbe 2361196 WS 400-22 Grafikkarte 6FM1470-4AA25 9" monochrom 6FM1496-2DA22 6FM1422-1AA00, -1BA00 6FM1422-1AA02, -1BA00 2363021 WS 400-20 Grafikkarte 6FM1470-4AA25 9" Farbe 6FM1420-1AA00 6FM1420-1BA00 6FM1496-2BA22 2362854 SIEMENS SINUMERIK Sinumerik S3 System 3 System 3M System 3TE 9" / 10" monochrom 6FC3888-5MB 6FC3888-5MD 6FC3888-5MC25 (10") 6FC3988-5MC5 6FC3988-7AF01 6FC3981-7DP 6FC39884-7DS (sampo) 6FC3157-0FA-Z (Weiler) QDM-9WD-120 2364039 Sinumerik 805 / 805M VDF Boehringer DUS 560 12" Farbe 12" monochrom 6FC4600-0AR01 6FC4600-0AR04 6FC4600-0AR20 6FC4600-0AR50 6FM2805-4AR04 6FM2805-4AR50 MAM32-12 2361895 (10,4" TFT) 2363037 (12,1" TFT) Sinumerik 810, Sinumerik 810 GA, Sinumerik 810 GA.2, Sinumerik 810 M, Sinumerik 810 M GA2, Sinumerik 810T, Sinumerik 810T GA.3 9" monochrom 6FC3541-0AA-Z 6FC3541-0AC-Z 6FC3551-1AC-Z 6FC3821-2AC-Z 6FC3981-7CD 6FC3984-7CD01 6FC3984-7CD81 6FC3984-7CD82 6FC3988-7AF01 6FM1510-1AA-Z 6FX1130-0BB01 3N/ME A1507529 2361494 (inkl. Bedientafel 6FX1130-0BB01) 2364039 (Einbaugerät) Sinumerik 810 und S3 9" / 10" Monochrom 2364039 SINUMERIK 820 SINUMERIK 820M GA.3 SINUMERIK 820T GA.3 SINUMERIK 850 SINUMERIK 880 / 880G 12" Farbe / SM-1200 6FC3261-1AC-Z 6FC3481-0AA-Z 6FC3561-1AC-Z 6FC3801-0AC-Z 6FC3981-7DT 6FC3981-7DU 6FC3981-7EG10 6FC3986-3AU (RGB) 6FC3988-7AM20 6FC3988-7AG 6FC3988-7AH12 6FC3988-7AH13 6FC3988-7AH14 6FC3988-7AW 6FC988-7AH20 Grafikkarte 6F11126-1AA03 2361199 SINUMERIK 840C 14" Farbe 6FC5103-0AB01-0AA2 2361201 SINUMERIK 840C SINUMERIK 840CE 14" Farbe 6FC5103-0AB01-0AA1 2361509 SINUMERIK 840D Operator Panel OP031 14" Farbe 6FC5203-0AB10-0AA0 2361202 SINUMERIK 840D Operator Panel OP032 14" Farbe 6FC5203-0AB20-0AA0 2364149 SINUMERIK 840D MMC100.2 6FC5210-0DA00-1AA0 2361210 SINUMERIK 810D SINUMERIK 840C SINUMERIK 840D, 840D MMC 100.2, 840D MMC 103 Operator Panel OP31, OP032S 10,4" Display LTM10C209A 6FC5247-0AA16-0AA1 6FC5203-0AB11-0AA2 6FC5203-0AB20-1AA0 6FC5203-0AB50-0AA2 6FC5210-0DA00-1AA1 6FC5210-0DA00-2AA1 6FC5210-0DA20-1AA0 2364009 (nur TFT Display) Sinumerik 810D Sinumerik 840D PCU20 10.4" Display 6FC5210-0DF00-0AA0 2363631 (nur TFT Display) Sinumerik 840D OP031 10,4" Display 6FC5203-0AF00-0AA1 2363227 (nur TFT Display) Sinumerik 840C Sinumerik 840CE 10,4" Display 6FC5103-0AB03-0AA3 2362484 (nur TFT Display) Sinumerik 840C / 840CE Sinumerik 840D OP031, INDEX G200 9,4" Display 6FC5103-0AB03-0AA1 6FC5103-0AB03-0AA2 2362148 (nur TFT Display) Sinumerik OP031 FM-NC/810D/DE/840D/DE 9,4" / 9,5" Display 6FC5203-0AB10-0AA0 2363307 (nur TFT Display) Sodick / EDM Control LQ-1, EX-21, NF2-40 MARK 20, MARK 21, MARK 25, MARK EX, MARK XI 14" Farbe 2361206 STORK CDS (12V DC) CDS 85, Novapax MPS 90 12" Farbe 2361207 STORK CDS (230V AC) CDS 285, CDS 385, CDS 485, CDS 500 12" Farbe 2361208 Toshiba BMC 100E CNC Tosnuc 800 12" monochrom 2361888 TRAUB TNS 60; TNA300; TNA 400 TX 8; TX-8-D 14" Farbe KME 26S14019R 2362872 Trumpf Trumatic 120, 235, 240, 240 rot Trumatic 500 Rotation (TC 500R), Trumpf TC 260 Bosch PANEL M.G., 046182, Bosch Trumagraph 12" monochrom 2363422 Trumpf Trumatic 500 Rotation (TC 500R) Bosch Trumagraph, MONO-PL 1.0 12", Nr. 063547, Nr 1070063547 12" monochrom MM12005U-255B 2361122 Trumpf 6000 Siemens Sinumerik Operator Panel Front 12" TFT 6FC5203-0AF52-0AA0 2363296 (Display Kit) Trumpf Trumatic V50 Trumpf TrumaBend Trumabend V130 Trumpf TRB V50 Delem, DA65T 12" Farbe/ Monocrom DMON-65, M31-191 GH 2361241 VDF BOEHRINGER DUS 560 Siemens Sinumerik 805 12" Farbe 6FC4600-0AR50 2361895 Voumad 200 CNC Grossenbacher FMS5-88 14" Farbe 2361209 Walter Walter Exeron 400 12" Farbe 2363208 Weiler Voest Alpine Steinel Typ E50                                Bedientafel Voest 2 766 09 342  12" Farbe / MAC 3212 6FC4600-0AR50 2361434 Typ E50/1 7" monochrom ELESTA                VIS4 000A000 2361133 Windsor mpc, wmt v5, wmt v6 (grafik), wmt v7 (grafik) 14" Farbe 2361970 Woehrle Bedienterminal DM-14C/SK2L/CP/200 Grafikkarte CP527 Siemens CP560 14" Farbe 14" monochrom MP14B-527 EUM 1491A 2363034 Grundig Manual Plus / Heidenhain 14" CRT Farbe MC14018U-711B 2361497 14" CRT Farbe MC14018U-780B 2362587 Yaskawa 14" CRT Hitachi Seiki TX-1424AD 2362185