This 12.1″ industrial monitor replaces monochrome CRT monitors BE411 and BE412 at Hermle milling machines (Type UWF 721) with CNC Heidenhain controls TNC155 and TNC355.
The replacement monitor was formatted electronically and mechanically to the original Heidenhain controls and can therefore be swapped out easily with a view "Plug & Play" steps.
The monitor is supplied with a matching front panel and an adapter cable (15 pin D-SUB to 9 pin D-SUB.)
Specifications:
12.1″ TFT monitor for Hermle UWF 721 milling machine
compatible to CNC Heidenhain controls TNC 155 und TNC 355 (with 12″ CRT monitors BE 411 and BE 412)
Mechanical versions: incl. front panel with non-rflecting glass
Input signal: RGB analog
Connection input signal: 15 pin D-SUB (2-rowed) (connection via adapter cable 9 pin D-SUB 2-rowed)
Operation voltage: 230V AC
Display resolution: 800 x 600 Pixel
Brightness: 400 cd/m2
Contrast ratio: 500:1
Dimensions front panel: 350 x 274 mm (w x h)
Backlight: approx. 50.000 operating hours
Operating condistions: 0°C ~ 50°C operating temperature
Designed for 24/7 continuous operation
Long-term-availability
Article ID 2363361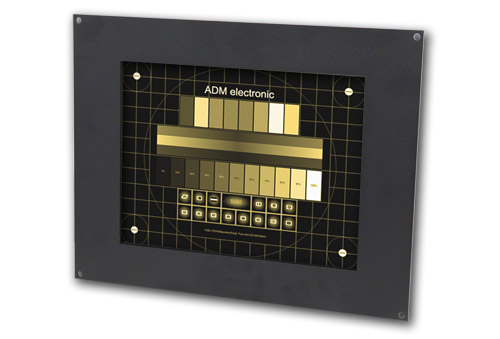 TFT industrial monitor for Hermle UWF 721
More images:
[kontakt]
Replacement monitors
Please contact our customer service. They will help you quickly.
ADM electronic offers didsplay replaycements for the following companies
Overview
Agathon | Agie | Amada | Arburg | Boehringer | Bosch | B&R | Bühler | Charmilles | Cybelec | Delem | Engel | FANUC | Ferromatik | Gildemeister | Heidenhain | Heller | Hermle | Hurco | Index | KraussMaffei | Makino | Mazak | Mitsubishi | Mori Seiki | Okuma | Osai | Philips | Reishauer | Safan | Schenck | Seibu Walter | Siemens Sinumerik | Siemens Simatic | Stork | Trumpf | Wöhrle | Universal / Multisync